Our editors independently research, test, and recommend the best products. We may receive commissions on purchases made from the links at no cost to you. You can learn more here.
Harbor Breeze is a house brand of Lowes's ceiling fans. Its fans are manufactured by the Litex industries and are best known for their cost-effectiveness and unique designs. When it comes to finding a fan that fits your style, then there's no better place to shop from than Harbor Breeze, considering it offers a generous variety of aesthetic and robust ceiling fans. Whether you're looking for an indoor fan or an outdoor fan, they come with dry, damp or wet approved blades. They offer a powerful performance due to their energy-efficient motors and can adequately ventilate any room. What's better is that Harbor Breeze ceiling fans give a limited lifetime warranty for most of its fans.
Listed below are some of the best rated Harbor Breeze ceiling fans:
Harbor Breeze Ceiling Fans Reviews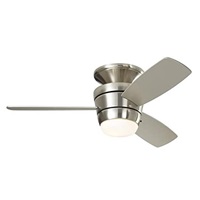 Mazon

Fan Size: 44-in

No. of Blades: 3

Voltage: 120 Volts

Wattage: 18 watts

Finish: Brushed Nickel
Sail Stream

Fan Size: 52-in

No. of Blades: 3

Voltage: N/A

Wattage: 75 watts

Finish: Brushed nickel
Kingsbury

Fan Size: 70-in

No. of Blades: 5

Voltage: 120 Volts

Wattage: 120.00

Finish: Oil rubbed bronze
Sauble Beach

Fan Size: 44-in

No. of Blades: 3

Voltage: N/A

Wattage: N/A

Finish: Oil Rubbed Bronze
Hydra

Fan Size: 70 Inch

No. of Blades: 8

Voltage: N/A

Wattage: N/A

Finish: Brushed
Harbor Breeze Mazon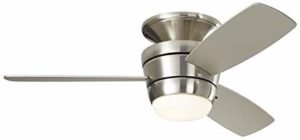 Harbor Breeze Mazon ceiling fan is one of Harbor Breeze's top-selling flush mount ceiling fans. Its state-of-the-art appearance, classy layout, and compact design are what make it so popular among users. If you have a low ceiling and a room of up to 100 square feet, then this 44-inch brushed nickel indoor ceiling fan, with the power of producing an airflow of 4,545-CFM, is perfect for its ventilation.
You don't have to worry about getting a separate light kit either, as this fan comes with an integrated matte opal glass dimmable light kit having an 18-watt LED bulb which provides ample and energy-efficient illumination. Another good energy conserver is the 3-speed reversible motor. It provides cool and warm air based on your preference and is much convenient to control due to the complementary handheld remote control which also comes with a wall cradle. Thus, due to its classy and unique design, this fan is superb for modern-style décor.
Harbor Breeze Sail Stream
Harbor Breeze Sail Stream indoor ceiling fan is another likable article preferred by consumers. Where most ceiling fans have a unique design, this one is more on the simpler side but adds effortless elegance to your room. Like other Harbor Breeze fans, this 52-inch brushed nickel ceiling fan is also quite durable. It provides adequate lighting due to its integrated light kit having a frosted glass shade and a 75 W incandescent bulb.
This fan is not only great for contemporary style décor but works equally great too, considering it comes with a 3-speed energy-efficient motor providing reverse airflow, and also a remote control allowing you to maintain the setting that comforts you most. This fan is ideal for large rooms as it comes with 3 grey blades and provides a powerful airflow of 2050 CFM, which gives sufficient air movement while looking incredibly sophisticated. Thus, this fan would be a great choice to add a hint of simple modishness to your room.
Harbor Breeze Kingsbury
Harbor Breeze Kingsbury indoor ceiling fan is stylish but has a slightly rustic touch to it. What makes it so attractive is its oil rubbed bronze finish, giving it a countryside charm yet perfect for transitional décor. This fan weighs 28 pounds, a diameter of 70-inches, a height of 12.2 inches, a length of 27.5 inches, and a width of 15.1 inches.
It comes with 5 blades and an energy-efficient motor producing airflow of 4364 CFM, ideal for large-sized rooms. So, not only does it have a powerful airflow capacity but conserves a lot of energy too. This fan comes with an integrated light kit with a 120-watt incandescent bulb that adds to its rustic allure. It also offers a remote control that enhances the comfort and convenience level felt by the users. So, if you're looking to bring a classical feel to your home, then this fan would be a great pick for the job.
Harbor Breeze Sauble Beach
Harbor Breeze Sauble Beach indoor ceiling fan will give your house a warm and inviting feeling, making it more homely. This fan has been carefully designed for small rooms. It comes with 3 nutmeg and cocoa reversible blades, which means you have the option to get both cool and warm air, hence providing year-round comfort. It has an oil-rubbed bronze finish which makes it perfect for an enchanting décor.
It comes with an energy-efficient motor that has an airflow capacity of 1956 CFM, providing abundant air movement for small-sized rooms. This fan also comes with an integrated trendy globe style light kit having alabaster glass and two 13-watt CFL bulbs, thus, its ability to provide decent illumination is topped with a sophisticated appeal. This 44-inch indoor ceiling fan also comes with remote control, making it easy to operate. Thus, Harbor Breeze's Sauble Beach indoor ceiling fan is just what you need to add comfort and style to your living.
Harbor Breeze Hydra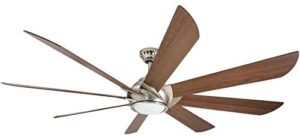 Harbor Breeze Hydra indoor ceiling fan is best known for its distinctive design. It has been carefully designed for large-sized rooms considering it provides sufficient air movement due to its 70-inch blade span. It comes with 8 toffee finished blades and a brushed nickel finish, which give it a sleek look. This fan will also keep your room bright and illuminated due to its integrated light kit having a frosted glass shade and an energy-efficient LED bulb.
For energy-conservation, this fan also offers reverse air-flow features, which means that it can evenly distribute warm air during winters while providing cool air during summers. Another unique feature is that its 6-speed settings enable you to feel a natural breeze due to its variable breeze mode. It also comes with remote control, adding even more comfort and convenience than it already does. So, if you want to give your house a snazzy look than this fan would be an absolute fit.
Conclusion
Looking for a ceiling fan that gives a powerful output and looks equally good too? Then, search no more because Harbor Breeze ceiling fans have got it all. Their incredible price range, huge variety, and special features will surely help you find the article you're looking for. Whether you need it for an office place, your house, or any other set-up, this brand will have a ceiling fan that would go with your needs.